11/06/06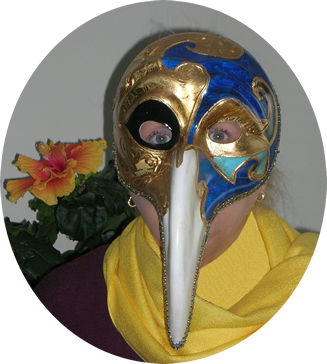 From behind the mask, so many hide and live life never letting the world see the gentle souls they are!
Then from behind a glamorous mask of success they hide the pain … the ultimate greed … the mask of life's cruelty … covered up and acted out on man and beast. Glamour is believed to be the ultimate success even when they growl to show earthly "win, win." Emptiness is their motto. Fear is their beast … never thinking to be free…calling greed and ultimate selfish deceit. Even for self they are merciless and "more, more," "me, me." The mask - is it self deceit?
I call you all to take down the mask. Generous and free lives are waiting. Let us not play a painful game. Do the best you can. The planet is in a polar shift and never hides the goodness it offers. Change.
Did you guess who you are behind your mask?